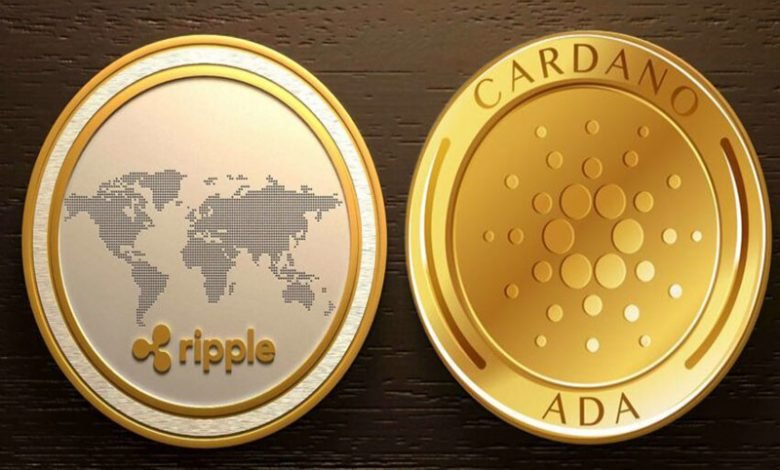 May and June 2022 were happening months for two well-known coins. They are Cardano (ADA) and Ripple (XRP). They were engaged in a battle involving market capitalization and the daily crypto trading. Both wished to gain the top spot. Surprisingly, this was during the crypto market's bearish run!
Statuses in May and June 2022
Towards the end of May, Cardano was on top. It had overtaken Ripple by $2.3 billion. Its ranking was sixth. Naturally, there was panic all around. There was also increasing capitulation. Soon enough, both Cardano, and Ripple, lost! Stablecoins took over the top spot. Regardless, the cryptocurrency companies had healthy market caps. They were touching several billion in U.S. dollars. 
Come June 2022, everything changed. Ripple managed to overtake its rival. It also gained new heights. Soon enough, it was in the sixth spot. The market cap had touched $18 billion. Cardano was lagging by $1 billion! 
Ripple owes its success to the enhanced price of its coin, XRP. The increase was a significant 13%. It is double the pricing of Cardano's ADA. Thus, whatever is the case, growth is on display.
Investors Wait and Watch
Of course, the rivals are still trying to outdo each other! Both are awaiting breakthroughs., and perfect circumstances. They even have certain aces up their sleeves. These strategies will assist in consolidating their positions in the global market cap list. They hope to be somewhere between the sixth and eighth ranks. 
The competitors even hope to go beyond Binance Coin (BNB)'s fifth place. This should be a great achievement, indeed! After all, Binance is one amongst the largest digital currency exchanges in the world. Its blockchain network, BNB Beacon Chain, is extremely popular.
Fans of Ripple are also monitoring the status of its lawsuit. It is U.S. SEC vs. the company. A decision should be out soon. 
Cardano's fans are monitoring the event, Vasil Hard Fork. This event is supposed to have an impact on the blockchain's evolution. It should reach the next level. 
Ripple 
Ripple was originally Ripplepay. The name was given by Ryan Fugger, its founder. A software developer, he launched the company in 2004. 
Arthur Britto, Jed McCaleb, and David Schwartz bought Ripplepay in 2012. They renamed it as OpenCoin. The idea was to utilize it for a cryptocurrency network in the future.
OpenCoin became Ripple Labs, Inc. in 2013. The Ripple Network was an open source one. In 2015, there was a final renaming. The company became Ripple. 
Ripple offers several advantages to users. 
For instance, it confirms/settles transactions within 4-5 seconds. 

Then again, transactions may use XRP, other cryptos, or fiat currencies. Therefore, Ripple is versatile. 

The fees are highly affordable.
XRP
It is the native coin of Ripple. It operates on the XRP Ledger. This is a blockchain for facilitating transactions. It is possible to purchase XRP in the form of investment. A reliable source for purchase is also possible to buy XRP as a digital currency for exchange. A third way is to use it for financing transactions on the Ripple Network. 
Cardano
Charles Hoskinson was responsible for launching Cardano in September 2017. It is a third-generation (3.0) blockchain project. Bitcoin was first generation. Ethereum was the second generation. 
The platform is meant to be energy-efficient, extremely scalable, highly secure, and favorable to smart contracts. It operates on a consensus mechanism – Ouroboros. Ouroboros is backed by peer-reviewed research. 
Two layers make up the Cardano blockchain. One is the Cardano Settlement Layer (CSL). It has the ledger of balances and accounts in place. Transactions undergo validation, here. 
The other is the Cardano Computing Layer (CCL). It takes charge of the execution of computations for varied apps. It does so via the operations of smart contracts. These apps run on the Cardano blockchain. 
Thanks to the two layers, the Cardano network is highly efficient. It processes around a million transactions every second.
ADA
It refers to the Cardano platform's native coin. Validators stake ADA coins. The validators oversee the network's stability and security. They gain rewards in the form of transaction fees. 
Cardano plans to use ADA as a governance token, too. This way, stakeholders will be able to vote. They may opine upon upgrades and changes to the Cardano platform.
Follow – https://bitcointodays.com for More Updates